Celebrating 50 years of community health
Saturday, June 10, 2023 at Gateway City Arts in Holyoke, MA.
Join us as local drag performer, Magnolia Masquerade, takes the stage, accompanied by Tapestry speakers, a hybrid auction, an interactive art project, drag performances featuring Magnolia Masquerade and Dr. Pepper, MD, music and performance by Bomba De Aquí, and so much more! 
Robust community support makes Tapestry's work possible, and we look forward to celebrating 50 years of meaningful impact with you!
The Auction is NOW LIVE!
TAPESTRY HEALTH IS Access without stigma
For 50 years Tapestry has been a leading expert in the community on critical public health issues. We provide access without stigma, which means meeting people where they are at and respecting their choices, while providing health care, support services and education for safer practices.
We serve over 19,000 residents annually, in Springfield, Holyoke, Chicopee, Northampton, Greenfield, North Adams and Pittsfield. We also offer care for surrounding communities through our mobile outreach vans.
Our Services Include:
Cervical & Breast Cancer Screening
Birth Control and Emergency Contraception
Gender Affirming Hormone Therapy
Overdose Prevention Education
Food Access and Nutrition Education
24/7 Breastfeeding Support
STI, HIV and Hepatitis C Testing
Narcan (Naloxone) Training and Access
Safer Sex Supplies
Pregnancy Testing
Syringe Services
and more
Gender Affirming Hormone Therapy
Tapestry has been providing gender-affirming healthcare, and now we are able to offer Gender Affirming Hormone Therapy at all of our clinics! 
These services are available in Holyoke, Springfield, Northampton, Greenfield, Pittsfield and North Adams. To schedule an appointment or for more information, please call us during operational hours to speak with a team member.
DONATION MATCHING CHALLENGE
UP TO $10,000 BY JULY 30TH
A documentary about harm reduction, love & art
What really happens at a needle exchange? This art-filled documentary goes behind the scenes at a syringe service program to look at the very misunderstood world of people who use drugs.
Access to compassionate, accurate, high-quality healthcare should be available to everyone regardless of income, age, race, gender, sexual orientation or immigration status. Tapestry provides safe spaces in all four counties of Western Mass where anyone can receive the care they need without fear of judgement or stigma. We've been committed to providing full access to medical information for over 50 years, and these programs are critical for community health and well-being.
[ecs-list-events limit='3′ venue='true']
Free Testing Events
/ 199 High St. Holyoke, MA 01040
Virtual: Narcan Training
/ Opioid Task Force – Online Event
Back Alley Art with Curtis
/ 1985 Main St, Springfield, MA
Food Access & Family Nutrition
WIC is good food and a whole lot more!
Food Benefits & Nutrition Education
Farmers Market Coupons
24/7 Breastfeeding Support
Immunization Screening & Referrals
Links to other family services and more
Syringe Access & Disposal
Narcan Training and Access 
Overdose Prevention Education 
Testing for HIV, STDs and Hep C 
Sterile Supplies & Safer Sex Supplies
 Drug Use Counseling and more
Sexual & Reproductive Health
Birth Control Options 
Emergency Contraception 
Gender Affirming Hormone Therapy
Pelvic and Breast Exams 
STI Testing & Treatment 
HIV Testing
PrEP & PEP HIV Medication and more
My son used to be a picky eater, but since I have been coming to WIC, I have learned how to introduce new foods, like whole grains into his diet. I feel like he is eating healthier now.
Harm Reduction Participant
I have saved 15 people from death by reversing an overdose with Narcan I got from Tapestry.
I went to Tapestry on my own at 17 to get my first pelvic exam and discuss birth control before I started having sex. As a young girl without a mother, Tapestry made me feel safe.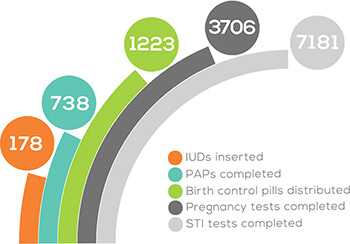 Help Tapestry Help Others
Tapestry is strongest when our community comes together to support us.
84% of our operating budget is funded by state contracts, the remaining 16% must be raised by Tapestry from foundations, individuals, and fees paid for services. We rely on the our generous donors.
Sign up for the latest news and alerts from Tapestry.